Might tip my hat, whistling in the Graveyard...
Posted 10-29-2009 at 11:13 PM by
ALCATRAZ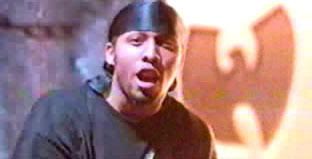 Former Black Knights MC, popular for his ultra-detailed multi-layered poetry, and correct english pronounciations. Has a limp in his walk due to truck accident many years ago during a lone visit to Japan.
Warcloud has become the subject of much recent debate due to the sudden change in his rhyme style. Although his lyrics are still largely "multi-layered and ultra-detailed", his execution is a far more off-beat, more avant-garde, free association verse incorporating allusions to classical literature (especially horror, children's stories and poems) urban legends, myths, western Americana and to a lesser degree popular culture. He refers to this new style as "Old Jail Pajama Room", as opposed to his old style which is "Mixed Forest Zone".
Together with his cousins Onslawt (Black Sun) and Leviathan (L-Swift), and Skarekrow and Mantra they formed Da Monstar Mob -- An underground Wu-Affiliated Hip-Hop crew. Da Monstar Mob released the album "Da Nightmare B-4 X-Mass" in 2003 but Warcloud did not appear on this album which left the fans with the question whether Warcloud is, or isn't a member of Da Monstar Mob. Those questions got answered by an interview with Da monstar Mob who informed the fans that Warcloud will always be a Monstar Mobster. Warcloud did however appear on an early Monstar Mob project called "Operation Takeover" which leaked all over the internet and never got an official release till 2006. Warcloud appears on two tracks, "Blue Apples" and "Creepin'" where technically we can hear the first real "Old Jail Pajama Room" style cause the album was created during a period between 1998-1999.
In 2002 Warcloud's two first albums suddenly got sold over the internet,which immediately left the fans wanting more of Warcloud. Those two albums "Nightmares That Surface From Shallow Sleep" and "Smuggling Booze In the Graveyard" eventually had a re-release in 2006 with cover art on Chambermusik including a bonus track on each album. In between this period Warcloud kept himself busy working alongside his partner The Professional and appeared on 2 of his albums. "Pro's Laboratory" was the first one which had it's release over the internet in 2003. The album earned itself a very good name in deep underground hip-hop which was loaded with dark, raw beats by The Professional and Skarekrow, and guest appearances by Vulgar, Leviathan, Onslawt, Bootface and of course Warcloud. In 2005 The Professional released his short album "Hip-Hop Endurance" where we can hear Warcloud rhyme in his Alcatraz style. In 2004 Warcloud also appeared on Vulgar's album "Hammer Pattern". Another great raw underground hip-hop release with Pro & Skarekrow productions. During 2005, Warcloud resurfaced from a hiatus to work on an album tentatively titled Hole in the Sky 2012 in the persona of Holocaust. Under his alias Alcatraz he made an appearance on The Professionals album "Hip-Hop Endurance" as on Contribution X's "Gun". In 2006 producer duo Blue Sky Black Death released "The Holocaust" with Warcloud making it the first 'officially' released album from Holocaust. Birth name Anthony Creston Brown.
Comments
1
Comments
Posted 11-02-2009 at 02:54 AM by

abanks47
Recent Blog Entries by ALCATRAZ