Veteran Member
Join Date: Sep 2006
Location: California
Posts: 795
Rep Power:
12
Indie Hip-Hop Label Re-Issues Unique 2Pac Tribute Project
---
Quote: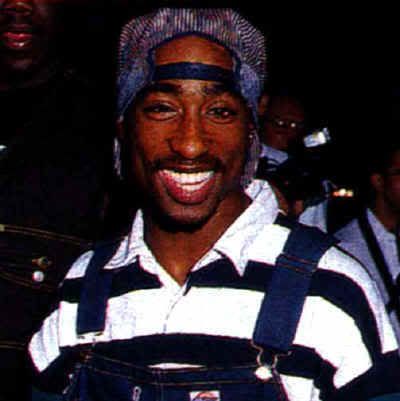 With all the talk about hip-hop being dead, Los Angeles indie label Thug Life Army Records sets forth a project that proves hip-hop is alive and well: outside the boundary of corporate "boardroom" hip-hop.

In the Shadow of an Icon is an amazing tribute to the teachings and thought process of hip-hop icon; rapper, activist, poet Tupac Shakur (2Pac). Tupac connected with the street because he was from the street and understood the messages that the street needed to hear.

Artists from all across the country including California, New York, Georgia, Texas, St. Louis as well as Canada have contributed to this project set in the mindset of Tupac Shakur (2Pac).

In The Shadow of an Icon brings no bling, or spinning rims, no meaningless repetitive hooks - just good quality hip-hop with a message from unsigned artists relevant to hip-hop culture in a time when real thought provoking hip-hop seems to have left the scene.

The project includes a track from San Antonio, Texas based 1223 whose track "Wish I Knew" placed first in VH-1's International Songwriting Competition. Also included on this project is a track from Jasiri X with Franchise (Produced by Paradise Gray of X Clan). Jasiri X has won the awards for Best Inspirational Artist and Single of the Year for "Free The Jena 6" at the 2008 Pittsburgh Hip-Hop Awards among others this year.

Hip-Hop is alive and well and this compilation from newly formed indie label Thug Life Army Records proves that. Tracks from well known indie artist like Inglewood, California's own Binky Mack (of the Westside Connection Click) and Squeak Ru (Binky Macks partner in the group allfrumtha i), Bay Area Boss Celly Cel, Latino great Kemo tha Blaxican out of East LA, Detroit, Michigan's Page 1, K–Loron from Cleveland, Ohio, Latino group UND from the legendary Inland Empire in California, G Luv (from Mack 10's Road Dawgz), Boo Kapone from Inglewood, California, Latino group Concrete Souljahs from Phoenix Arizona, Wize-Fool representing from the Bronx NY and Jersey, SUPe from Hawthorne, California, Saint Louis, Missouri based Hustle Creed, Inglewood, California's Purple Lounge, from Chicago to LA and the entire One Nation Project, Malign20, Ebony Burks from Atlanta Georgia / Los Angeles California, FAME from Atlanta, Georgia, Qwiccshott from San Diego, California, Nolan from Inglewood, California, Tommy Danger from Harlem and Manhattan, 3RDegree from the I.E. (Inland Empire), California, Dolo from Inglewood, California, and lets not forget our brothers from north of the border Sammy B and Big Dee from Calgary, Alberta, Canada and the spoken word artist Queen Josie from Atlanta, Georgia.

Hip-Hop is not dead, you just have to know where to look – and that means look to the streets instead of the boardroom and you will see that Thug Life Army Records has done just that on In the Shadow of an Icon. "Hip-Hop was supposed to be this new thing that had no boundaries and was so different to everyday music. As long as it has soul to it, hip-hop can live on." - Tupac Shakur

The album is available for digital download on Itunes, Umusic and all other on line download sources. In stores nationwide.

The album can also be purchased at TupacTribute.com or ThugLifeArmyRecords.com for a "Special" Re-Launch price.

Track list for In the Shadow of an Icon

Disc One

1.) Boo Kapone - KNOWLEDGE

2.) Concrete Souljahs - Walk wit me

3.) allfrumtha i - Everywhere I Go (good and evil)

4.) SUPe – The System

5.) Hustle Creed - We Live and We Die

6.) Purple Lounge "H.O.P.E"

7.) Nolan – PEOPLE

8.) 1223 - Wish I Knew

9.) Jasiri X and Franchise - 2 Pacs More

Producer: Paradise Gray (X Clan) and GM3

10.) Page 1 - Fallen

11.) Ebony Burks – Choice

12.) G Luv - Revelation

13.) FAME – Next 2 Kin

14.) U.N.D feat. Teeka – Understand

15.) binky mack - Conflict Of Interest


Disc Two

1.) Kemo the Blaxican - Breathe

2.) Celly Cel - No Tomorrow

3.) Dolo - So Much Drama

4.) Qwiccshott - Never

5.) Sammy B feat Big Dee – No Half Steppin

6.) 3RDegree – Broken Home

7.) allfrumtha i - Me & My Dawg

8.) K – Loron – Speed of Life

9.) Concrete Souljahs - Related to the Underground

10.) Tommy Danger - Run for Cover

11.) Wize-Fool – DANGEROUS FREE THINKER

12.) binky mack - Taken Over

13.) Malign20 - Hopes and Dreams

14.) Queen Josie - Young Men of Today (Spoken Word)

For radio mp3's and/or a press promo copies of the album for review or banners to help promote this project on your site please contact RB Riddle or Thug Life Army Records at RB@ThugLifeArmyRecords.com or Info@TLARecords.com.

Artists and Label available for interviews and in store promotions. Thug Life Army Records is a division of Star Sound Music Group based in Hollywood, California.
http://www.streethop.com/forums/articles/120260.html